Alummikon Truckbeds
Choosing the right flatbed for your pickup truck can be a tough decision. With today's gas prices, more people are choosing aluminum over steel since it's half the weight, increasing the fuel economy and cargo capacity of your flatbed truck. Aluminum is just as strong as steel and has a much better strength-to-weight ratio. Unlike steel, aluminum will never rust.
Our flatbed package comes standard with options that you would normally pay extra for. We offer over 14 options, guaranteeing that you will get what you want. We have been building aluminum products for over 20 years and are trusted by the government, commercial businesses, farmers, landscapers, and truckers.
We contour headboard to fit the curve of your truck. The super-tough frames are constructed from our proprietary tube extrusion that is completely seamless. The vertical bars or mesh backboard are then fully welded to the contoured frame. This non-rivet design adds super strength and good looks. Alummikon Flatbeds are hands-down the most professional looking beds on the market.
Alummikon Features
Alummikon products are designed, fabricated and welded under the highest quality best practices ensuring you with years of performance.
Marine-grade aluminum floor and frame
Headache rack with lights
All truck beds include LED light package:

Pre-wired with lights installed
License plate light
Back-up lights

4in rub rail with stake pockets
Custom sizes available
100% Fully Welded Aluminum
Alummikon flatbeds are constructed from heavy gauge marine grade aluminum and they are fully welded without the use of rivets. A standard deck is extruded aluminum decking with square corners. Tube sills are full length and each cross member is placed on 12″ centers. The side rails are 4" extruded tubing that house LED lights and rope hooks. We frame in the tail apron and use gussets to maximize strength and durability.
Truckbed Packages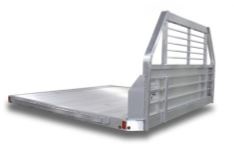 Our base truckbed packages are designed to provide you an economical way to improve the carrying versatility of your current or new truck.
Marine-grade, thick-walled aluminum frame
Extruded aluminum decking
4/12/18" aluminum tubing rear lighting skirt
Rub rail with stake pockets
LED basic lighting package
Basic headboard with accessories track